Social Profile of Switzerland

Tour Switzerland and travel through the major Tourist Destinations in Switzerland and grab more information on our website Switzerlandtours.net



A tourist planning for a Switzerland Tour must know the social profile and culture of the Swiss society to avoid meeting any disappointment during the Switzerland Tour. Fortunately in the whole of Western Europe, which is thronged by the travellers during the vacations, Switzerland has the rich and colourful cultural legacy. Here under we are providing you the information valuable for you while your Switzerland vacation.


Swiss Cuisine

Specialities:

Swiss people enjoy good food. A favourite delicacy with the swiss is the Fondue. Its a concoction of Gruyère and Vacherin cheese which is melted and mixed with a little garlic, flour, kirsch and white wine. Other cheese delicacies are Emmental and Tête de Moine. Regional specialities in Switzerland includes viande sechée from Valais. This particular dish is also popular in Grisons where it is called Bündnerfleisch. It is made from dried beef or pork meat which is cut wafer thin and served with pickled spring onions and gherkins. Papet vaudoir is yet another swiss delicacy made from leeks and potatoes.

Pieds de porc is a delicious Geneva speciality made from trotters. Pork sausages or salami is very popular in Switzerland and comes in a variety of swiss recipes including Beinwurst, Engadinerwurst, Kalbsleberwurst (calf's liver pâté), Knackerli, Landjäger and Leberwurst (pâté). Swiss delicacies such as Rösti made from shredded fried potatoes and Fondue Bourguignonne made from cubed meat with various sauces should not be missed.

Cakes and pastries:

Swizerland is famous for its cakes and pastries. Especially wonderful is Leckerli. A Basle speciality, Leckerli is spiced honey cake topped with icing sugar or white sugar bear; Fasnachtküchli is a sugar-dusted pastry eaten during Carnival; Also popular are Gugelhopf, a type of sponge cake with a hollow centre and Schaffhausen tasty which are cream-filled cakes.

Wines:

Swiss beer is a very popular drink among the Swiss. Swiss wines are great and are available throughout Switzerland. Popular Swiss spirits made from fruits includes Kirsch, Marc, Pflümli and Williams. Bottled mineral water is also an accepted beverage. Bars/cocktail lounges have table and/or counter service.


Swiss Culture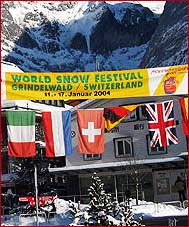 Nightlife:

Nightclubs and discos with music and dance are common in most of the major towns and resorts. They also serve food sometimes. Cinema halls and theatres are also popular. Local folk entertainment are also arranged sometimes by the city bars and restaurants.

Special Events:

The special events in Switzerland include The World Snow Festival at Grindelwald, Polo World Cup on Snow at St Moritz, Basle Carnival at Basle, International Motor Show at Geneva, Berne International Jazz Festival, International Dog Sleigh Race, Les Mosses, Allianze Swiss Open (tennis), Bernese Oberland, Montreux Jazz Festival, Swiss Alpine Marathon at Davos, Lucerne Festival etc. Details regarding special events happening in Switzerland can be obtained from the Switzerland Tourism Department.

Social Conventions:

It is a Swiss custom to gift unwrapped flowers to the hostess when invited for a meal. But red roses should be avoided; Chrysanthemums or white asters must never be given as they are considered to be funeral flowers. Informal wear is widely accepted. There may be a dress code (jackets and ties) in First-class restaurants, hotel dining rooms and important social occasions. Tie a black tie only when specifically mentioned.

Tipping:

By law, a service charge is levied in all the hotels, restaurants, cafes, bars, hairdressing services and taxi.