Vacation in Southern Switzerland

Tour Switzerland and travel through the major Tourist Destinations in Switzerland and grab more information on our website Switzerlandtours.net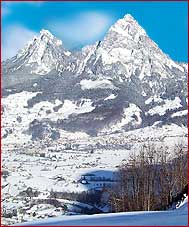 Switzerland is known as the Paradise of Europe. A tourist planning for a Switzerland Tour is always inquisitive about the tourist places in Switzerland during that Switzerland Tour. Fortunately in the whole of Western Europe, which is thronged by the travelers during the vacations, Switzerland has the best of tourist destinations for Switzerland vacation. For the convenience of tourism and its development, the entire country is divided into various regions. Here under we are providing you the information about the Southern Switzerland, valuable for you during your Switzerland Tour and Switzerland vacation.

Valais Region:

Stretching all the way from the Rhône Glacier across the Brig, Sion and Martigny and all the way down to Lake Geneva, the Valais valley is a diverse landscape, which entices every visitor. Valais Alps are home to some of the highest mountain peaks in Switzerland - Dufour Peak (4634m/15,217ft), Dom (4545m/14,917ft), Weisshorn (4509m/14,793ft) and the Matterhorn (4478m/14,698ft). There are terrific resorts situated at the foot of these high mountains such as Saas Fee in the Saas Valley and Zermatt in the Nikolai Valley; the Matterhorn provides a magnificent backdrop for Zermatt. In Zermatt, the main means of transport is either to walk or to take a horse and cart. Cars are not allowed here which makes visiting this town a very unique experience. Brig is a historically significant town in this region. The town boasts the most important Baroque castle in Switzerland, the Stockalperschloss. Also worth visiting are Sion, an episcopal town and Martigny famous for its castle ruin. Castle enthusiasts should also visit Leuk, Sierre and Monthey. If you are in this region of Switzerland, a visit to the the Rhône Glacier and grotto at Gletsch and the subterranean lake at Saint Leonard are a must.

Ticino Region:

Ticino is the southernmost tip of Switzerland. With its Italian-speaking people, a subtropical climate and a Mediterranean atmosphere, Ticino has a very different feel to it. From the Alpine valleys the road runs down to the narrow streets, pavement cafés and lakeside lido of Locarno, on the shores of Lago di Maggiore. Lying between the peaks of San Salvatore and Monte Bré, Lugano is the largest city in the region. Lugano is a world class health and holiday resort and a popular tour destination with the Swiss. Lugano's grand buildings, delicious Piazzas and the Cathedral of San Lorenzo and the beautiful avenues along the lakeshore give the city a special flair. Visit the region during the spring as it is in full bloom with beautiful flowers and trees all over. Coach excursions to the great passes of Furka, Oberalp and Lukmanier, and to Milan and Venice, can be arranged locally. The islands of Brissago has an interesting botanical garden with wonderful Mediterranean flora and should not be missed. The untouched natural wilderness of Bolle di Magadino and the Paleological Museum at Meride are a must-see for nature enthusiasts.