Swiss Mountain Peaks
TOUR PROGRAMME - 4 days/3 nights
Schilthorn – Engelberg – Titlis – Zürich
1st day:
Arrival in Interlaken by train 2nd class from the Swiss border or airport. In the afternoon excursion to Schilthorn / Piz Gloria (3000m/10'000ft.) with its unique revolving panorama restaurant and its thrilling James Bond 007 history. Overnight in Interlaken.
2nd day:
Today you continue your trip to the mountain monastery village Engelberg, the village at the foot of Mount Titlis. Overnight in Engelberg.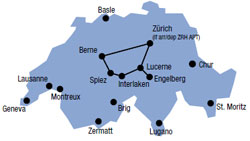 3rd day:
Excursion to the glacier paradise of Mount Titlis at 3020 m/10'000 ft. Ascending in the world's first revolving gondola ROTAIR and take the opportunity to ride the spectacular Ice Flyer chairlift and see the ice grotto in the Titlis Glacier Park. Transfer by rail to Zürich with a shopping and sightseeing stop in Lucerne. Overnight in Zürich.
4th day:
Departure to Swiss border or airport or continue your stay in Switzerland at your own request.
OUR PRICE INCLUDES
Swiss Card Swiss Mountain Peaks (4 transfers) incl. excursions Schilthorn and Titlis with Ice Flyer chairlift in 2nd class from/to Swiss border or airport (Schilthorn excursion either on day 1 or 2 and Titlis excursion either on day 2 or 3 of this itinerary)
1 night in Interlaken, room with bath or shower/WC, breakfast
1 night in Engelberg, room with bath or shower/WC, breakfast
1 night in Zürich, room with bath or shower/WC, breakfast
Any additional tickets for excursions to travel by rail, boat, postal-coached and cable cars can be purchased at 25–50% of the regular fares
Valid from 1st - 23 April, 29 April – 12 November and 9 December 2017 till 28 March 2018
3-star-hotel

4-star-hotel

01.05.17-01.10.17

01.04.17-23.04.17
29.04.17-01.05.17
01.10.17-21.11.17
09.12.17-28.03.18


01.05.17-01.10.17

01.04.17-23.04.17
29.04.17-01.05.17
01.10.17-21.11.17
09.12.17-28.03.18


Double Room

616

620

733

685

additional night Interlaken

101

84

136

102

additional night Engelberg (4* Lucerne)

90

112

140

128

additional night Zürich

130

130

160

160

Single Room

703

703

928

888

additional night Interlaken

132

110

176

145

additional night Engelberg (4* Lucerne)

90

112

185

176

additional night Zürich

185

185

271

271
Supplements per person:
CHF 70.– upgrading to 1st class rail
* with 4-star-hotel in Lucerne instead of Engelberg