Royal views: «James-Bond-Mountain» + Matterhorn glacier paradise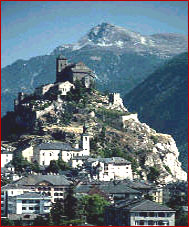 TOUR PROGRAMME - 5 days/4 nights
Interlaken – Schilthorn – Lötschberg mountain route – Zermatt – Matterhorn glacier paradise


DAY 01 ARRIVE ZURICH / GENEVA - INTERLAKEN

Arrival in Interlaken by train 2nd class from the Swiss border or airport. Overnight in Interlaken.

DAY 02 INTERLAKEN

Excursion to the «James-Bond-Mountain» (film location). First the train takes you from Interlaken Ost to Lauterbrunnen where you board the bus to Stechelberg. From there several cable cars take you up to Schilthorn Piz Gloria – at 2970 m/9'744 ft. A spectacular 360° panorama view awaits you – some 200 snow-capped peaks, ranging from the Bernese Alps to Mont Blanc in France and Germany's Black Forest. An additional highlight is the world's first revolving mountain restaurant at an altitude of nearly 3000 m. Overnight in Interlaken.

DAY 03 INTERLAKEN - ZERMATT

Travel either via the Lötschberg base tunnel directly to Visp and further to Zermatt. Or by the Lötschberger – the train with big windows using the Lötschberg mountain route, passing the imposing Kander Viaduct, the helical tunnel around the Felsenburg and the descent to Brig with the imposing view onto the Rhone Valley and continue your journey to Zermatt (www.bls.ch/loetschberger). Zermatt, at the foot of the Matterhorn, is the perfect Alpine resort. On arrival you might take the opportunity to go on an optional excursion to Rothorn paradise to enjoy the best view of the Matterhorn. Overnight in Zermatt.

DAY 04 ZERMATT

Excursion to the Matterhorn glacier paradise – Europe's highest mountain lift with the most fascinating and highest glacier palace in the world – at 3883 m/12'740ft. Experience the mystical world below the perpetual ice with its ice sculptures and exhibition about glaciers, geology and the wine in Zermatt. Round off this excursion with a visit to the highest viewing platform in Europe at the Matterhorn glacier paradise. Overnight in Zermatt.

DAY 05 ZERMATT - DEPARTURE

Return to Swiss border or airport or continue your stay at your own request.


OUR PRICE INCLUDES
Swiss Card Royal views (5 transfers) incl. Schilthorn + Matterhorn glacier paradise incl. entry to the glacier palace in 2nd class from/to Swiss border or airport
2 nights in Interlaken, room, bath or shower/WC, breakfast
2 nights in Zermatt, room, bath or shower/WC, breakfast
Any additional tickets for optional excursions to travel by rail, boat, postal-coaches and cable cars can be purchased at 25–50% of the regular fares
PRICES PER PERSON : Valid from 15th May - 31st October 2016 and 09th January - 01st April 2017
Prices per person in CHF

3Star

3Star

4 Star

4 Star

15.05.16-31.10.16

09.01.17-01.04.17

15.05.16-31.10.16

09.01.17-01.04.17

Double room

738
780
872
890

additional night INT/GRI

102
84
137
98

additional night Zermatt

96
138
140
176

Single room

820
880
995
1012

additional night INT/GRI

137
110
176
146

additional night Zermatt

110
146
150
190
Supplement per person:
CHF 100.– upgrading to 1st class rail