Honeymoon in Switzerland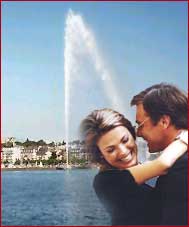 TOUR PROGRAMME - 8 days / 7 nights


DAY 01 ZURICH/GENEVA - LUCERENE

Arrival at Lucerne in Switzerland in 2nd class by train from the Swiss border or any Swiss airport. Overnight stay at Lucerne.

DAY 02 LUCERENE

Take a lake cruise on Lake Lucerne stretching from Lucerne to Alpnachstad, then continue up to Mt.Pilatus rising to a hight of 2132 m/7000ft by the steepest cogwheel railway system in the world (from June to end of September every year. During winters, you can take the bus from Lucerne to Kriens from where you can proceed further on a panoramic gondola from Kriens to Pilatus. Spend time at leisure. Overnight stay at Lucerne.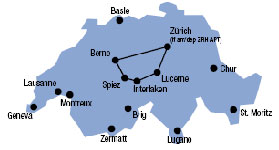 DAY 03 LUCERENE - INTERLAKEN

Proceed from Lucerne to Interlaken by Rail on Brunig Express (panoramic seats in 1st class only). Overnight stay at Interlaken.

DAY 04 INTERLAKEN

Proceed from Interlaken on an excursion trip up to the Jungfraujoch also known as the Top of Europe. From Interlaken, proceed to Lauterbrunnen by train where you make a stopover for change of trains. Further proceed to Wengen and the Kleine Scheidegg, situated at the foot of the famous Eiger North Wall. Further, proceed to the Jungfraujoch by Jungfrau Railway. At 3454 m/11'333 ft, it is the highest railway station in the whole of Europe. Enjoy breathtaking views of the Aletsch Glacier, the longest glacier in the Alps. Overnight stay at Interlaken.

DAY 05 INTERLAKEN - ZERMATT

Have your breakfast at your hotel in Interlaken. Later, take a train to Brig and further to Zermatt. Enjoy the unique experience of a world without cars at Zermatt. The only vehicles allowed here at Zermatt are Electric cars and horse drawn carriages. Overnight stay at Zermatt.

DAY 06 ZERMATT

In Zermatt, we suggest an excursion to the Gornergrat with a breathtaking view of the Matterhorn. Overnight stay at Zermatt

DAY 07 ZERMATT - ST. MORTIZ

After having your breakfast, proceed by the world famous Glacier Express train to St. Mortiz. Optional mid-day meal in the dining car are also available (If required, please indicate at the time of booking). Overnight stay at St. Moritz.

DAY 08 ST. MORTIZ – ZURICH/GENEVA

Return back to the Swiss border or airport or continue your stay in Switzerland at your own request. 8th day:


OUR PRICE INCLUDES
Swiss Transfer Ticket (5 transfers) incl. excursions Jungfraujoch and Pilatus in 2nd class
Swiss Card (3 transfers) in 2nd class from/to Swiss border or airport
Seat reservation for Glacier Express
1 night in St. Moritz, room, bath or shower/WC, breakfast
2 nights in Zermatt, room, bath or shower/WC, breakfast
2 nights in Interlaken, room, bath or shower/WC, breakfast
2 nights in Lucerne, room, bath or shower/WC, breakfast

** Please contact us for 5* hotels cost
Supplements per person
CHF 175 - upgrading to 1st class rail (recommended, so you can enjoy the panoramic car of the Glacier Express)
CHF 38 - lunch in the dining car (Glacier Express)
CHF 6 - supplement seat reservation in the panoramic coach from Interlaken to Lucerne
OPTIONAL EXCURSIONS
CHF 35.- Bernina Express in 2nd class from St. Moritz to Tirano (Italy) and back to St. Moritz
CHF 50.- Bernina Express in 1st class from St. Moritz to Tirano (Italy) and back to St. Moritz
CHF 38.- by cogwheel railway up to the Gornergrat in Zermatt (2nd class only)
CHF 45 - Matterhorn Glacier Paradise
CHF 35 - Rothorn Paradise


PRICES PER PERSON : Valid from 01 Apr -1st Nov'12, 12th - 17th Dec'12 and 10th Jan'13 – 31st Mar'13
3-star-hotel

1/04/12 - 25/04/12
10/01/13 - 31/03/13

25/04/12 - 14/05/12
12/12/12 - 17/12/12

14/05/12 - 31/10/12

Double Room

CHF 1279

CHF 1155

CHF 1184

Additional Night St Moritz

CHF 141

CHF 106

CHF 106

Additional Night Zermatt

CHF 132

CHF 92

CHF 92

Additional Night Lucerne & Interlaken

CHF 92

CHF 92

CHF 92
4-star-hotel

1/04/12 - 25/04/12
10/01/13 - 31/03/13

25/04/12 - 14/05/12
12/12/12 - 17/12/12

14/05/12 - 31/10/12

Double Room

CHF 1609

CHF 1423

CHF 1445

Additional Night St Moritz

CHF 233

CHF 141

CHF 141

Additional Night Zermatt

CHF 163

CHF 116

CHF 116

Additional Night Lucerne & Interlaken

CHF 132

CHF 132

CHF 132
OPTIONAL EXCURSIONS
CHF 53 - Matterhorn Glacier Paradise
** Please contact us for 5* hotels cost
Supplements per person
CHF 190 - upgrading to 1st class rail (recommended, so you can enjoy the panoramic car of the Glacier Express)
CHF 41 - lunch in the dining car (Glacier Express)
Note: Above prices are exclusive of SFr. 25 as Airport Deposit Fee.

Any amendments to change of travel date, change of hotel category or name change will be subject to an amendment fee of SFr. 65.



Hotels to be used in :




Interlaken
3star:
Chalet Oberland, Splendid, Weisses Kreuz, City, Chalet Swiss, Carlton-Europe Hotel, Beau Site, Bernerhof
4star:
Du Lac, Interlaken, Royal St. Georges, Metropole, Du Nord
5star:
Lindner Hotel Beau Rivage, Victoria-Jungfrau Grand Hotel & Spa
Lucerne
3star:
Waldstätterhof, Krone, Drei Könige, Alpina, Magic Hotel (breakfast at htl Krone about 80 m away), Zum Weissen Kreuz, Des Alpes, NH Hotel
4star:
Flora, Cascada, Art Deco Hotel Montana, Monopol, Radission SAS
5star:
Palace Luzern
St. Moritz
3star:
Löffler Garni, Soldanella, Hauser, Laudinella
4star:
Bären, Monopol Grischuna, Steffani, Crystal
5star:
Badrutt's Palace
Zermatt
3star:
Sarazena, Bristol, Excelsior, Butterfly
4star:
Style Hotel Biner, Simi, Schlosshotel Tenne, La Ginabelle, Pollux, Alpen Resort, Parkhotel Beau Site, Allalin
5star:
Mont Cervin Palace