Budget Hotels in Bern

Tour Switzerland and travel through the major Tourist Destinations in Switzerland and grab more information on our website Switzerlandtours.net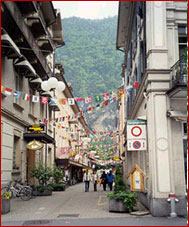 When the tourists plan for a Switzerland Tour; they are inquisitive about the accommodation facilities available in Switzerland. There are many Budget Hotels in Switzerland and its major cities that provide a reasonable stay with modern amenities. Hereunder we are giving you the most popular Budget Hotels in Bern, one of the important tourist destinations in Switzerland. The Bern Hotels are quite cheap and one of the best Switzerland Hotels.

Hotel Bern Backpackers Bern

Location:

Rathausgasse 75,3007, PO Box 503, Bern, Switzerland, Europe

Description:

The Switzerland Hotel, Bern Backpackers is the most centrally located hostel of Bern. which is only a few minutes away from the railway station. The historic building is part of the city's unique world heritage area. It is the most economic accommodation in Bern with the dormitory.

Accommodation:

2 to 6 bed dorms, private rooms with or without bathroom. Big common room with kitchen, laundry, internet, TV, pool table etc.

Facilities:

Internet Access, Laundry, Linen Included, Bar, Security Lockers, Luggage Storage, Telephone/Fax Facilities, Travel Desk/Travel Info, Common Room No Curfew, No Lockout, Taxes included in price.


Hotel Landhaus Bern

Location:

Altenbergstr. 4-6, Bern, Switzerland, Europe

Description:

This Switzerland hotel stands within a 90 years old house. Situated in the heart of the old town of Bern, it lies beside the river Aare. Hardly 10 minutes walking distance from the main railway station.

Accommodation:

The newly renovated rooms are in tune to one's personal requirements from 6 bed dormitories to a double room with shower and toilet. TV or a feathered duvet and pillow, hairdryers and many other amenities are available on request, along with an internet-connection. A bar and games are also their for a vibrant entertainment.

Facilities:

Restaurant, Car Parking, Internet Access, Bicycle Hire, Credit Cards Accepted, Bar, Guest Kitchen, Telephone/Fax Facilities